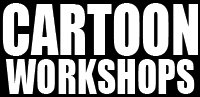 With 19 years of professional experience and over 38,000 caricatures under his belt, Adrian "OZ" Osborne delivers cartooning and caricature workshops with an emphasis on the importance of developing personal communication skills, while his colourful and lively delivery caters for a spectrum of age groups and abilities.
His presentation is designed to demystify drawing by demonstrating cartooning and caricature skills with a combination of live cartooning demonstrations and storytelling that will inspire new ideas and ignite confidence, while encouraging students to step outside their comfort zone, and expand their own drawing talent (even those who claim they "can only draw stick figures"!)


Ultimately Osborne's workshops demonstrate the importance of rediscovering the confidence and strength that comes from doing what you love, and that one of the most powerful tools in your life could be the pen in your hand.
Recommended ages:
Child and adult sessions available.
Duration: Workshops tailored for 30 to 90 minute sessions.
Cost: Contact studio for quotation.
BOOKINGS & ENQUIRIES: 0413 311 744
or email studio@splatoons.com